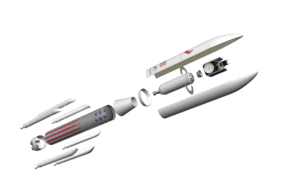 Luxembourg, 15 July 2021. – RUAG Space extends its partnership with the United Launch Alliance (ULA) to produce payload fairings for the Atlas and the Vulcan Centaur rocket programs, the Swiss company said.
RUAG Space and ULA modified and extended their existing development and production contract until 2024. The additional order volume for RUAG Space amounts to 110 million Swiss francs, the company said.
RUAG Space and ULA had started their partnership to produce composite structures for the Atlas V rocket in 2015. RUAG produced the fairings at its site in Switzerland until 2017 and then set up its operations in Alabama, in the U.S., where RUAG Space will now also manufacture the carbon fiber structures for the new Vulcan launch vehicle.
Since the beginning of the partnership, more than 120 successful rocket launches have been carried out by ULA using RUAG Space products, the company said.