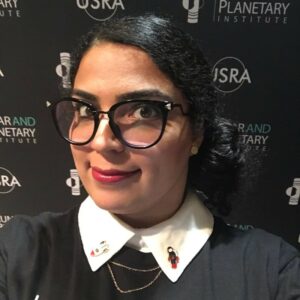 SpaceWatch.Global is pleased to present the 28th episode in our podcast series The Space Cafe Podcast: Mahsa Moghimi Esfandabadi, Space Architect. What our habitats on foreign shores will look like
Episode 028 features a special guest Mahsa Moghimi Esfandabadi.
Mahsa Moghimi Esfandabadi builds houses. Preferably for places like Mars or the Moon. Because in the not too distant future, we will need permanent dwellings out there. But as you might expect, it's not that simple and will take generations of research. Space is and remains merciless when it comes to offering humans a potentially new home. But Mahsa will not be shaken off that easily as she calls persistence one of her magic skills. Get on board and take an exclusive tour of a future habitat in distant worlds with this new edition of the Space Cafe Podcast.
The Space Cafe Podcast brings our signature brand of engaging and relevant content from across the global space economy to you via an exciting new format. Together with award-winning Executive Producer, Markus Mooslechner (Terra Mater Factual Studios), our fortnightly podcast features highly interesting guests.
Each episode includes a review of important topics, as well as guest appearances and deep commentary from expert panellists from across the space sector.
Thanks to our global distribution partner, BookWire, the podcast is available on all major podcast platforms.











Tune in here: