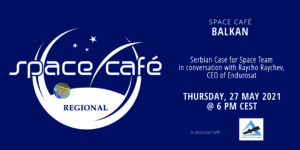 This Space Café Balkan will feature Raycho Raychev, founder and CEO of Endurosat, in conversation with Anja Nakarada Pecujlic and Marko Pajović, friends of SpaceWatch.Global.
Is the Balkan an emerging space region?
Recently, an increase of space activities in the Balkan region is noticable and even though there is no real coherence between Balkan countries, as they are in different stages of development regarding the private and space state sector, the question raises: is the Balkan emerging as a new space region?
On the May 27 Serbian Case for Space Foundation and Spacewatch.Global will kick off Space Cafe Balkan with Raycho Raychev, the CEO of a successful Bulgarian space company. Together we will examine the space landscape of the Balkan region and try to answer the burning question.
Raycho Raychev is the Founder and CEO of Endurosat! Prior to founding EnduroSat, Raycho created a leading educational program for space science, technology, and exploration – Space Challenges. He is also the winner of multiple awards and recognitions including MIT Tech review, Forbes 30 under 30, Gifted Citizen Award, New Europe 100 – Google and Financial Times Ranking, 40 under 40 National Impact Ranking, Webit Innovator Award and others.
Serbian Case for Space Foundation (SCS) was established in 2017 in Belgrade, Serbia, as a think tank organization with the aim to promote the importance and benefits of Serbia's engagement in the space domain and to help create space ecosystem from bottom-up.
The audience will have an opportunity to ask questions in dialogue with Raycho Raychev.
SpaceWatch.Global is a Switzerland-based digital magazine and portal for those interested in space and the far-reaching impact of the space sector.
This Space Café Balkan will be conducted in English on 27th May 2021 at 6pm CEST.
Reserve your place today.