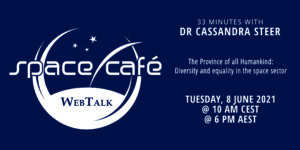 This Space Café WebTalk will feature Dr Cassandra Steer, Senior Lecturer, ANU College of Law & Mission Specialist, ANU Institute for Space, Canberra, Australia, in conversation with Torsten Kriening, publisher of SpaceWatch.Global.
The Outer Space Treaty states that space shall be the "province of all mankind", but this promise is not fulfilled. Space has been the province of a few elite nations, and even as access to space becomes cheaper and more international, it is still not truly accessible to all. The space sector also remains predominantly the province of mankind, and is not sufficiently inclusive of womankind, nor of sufficient ethnic, racial, linguistic and cultural diversity. This matters because diversity can solve problems, provide new perspectives, and innovate more than hegemony can.
Cassandra's recent chapter titled "The Province of all Humankind: A Feminist Analysis of Space Law" was published in the volume "Commercial and Military Uses of Outer Space"(Springer, 2021). All of the authors and the two editors of this book are women, from around the globe, and experts in a range of disciplines. But that was not the point of the book. It simply demonstrates that diversity is easy and can provide a range of expertise.
The audience will have an opportunity to ask questions in dialogue with Dr Cassandra Steer.
SpaceWatch.Global is a Switzerland-based digital magazine and portal for those interested in space and the far-reaching impact of the space sector.
This Space Café WebTalk will be conducted in English on 8th June 2021 at 10 am CEST.
Reserve your place today.