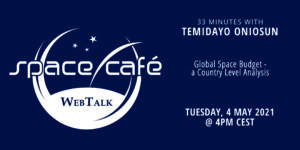 Join SpaceWatch.Global for an interesting and informative Space Café WebTalk featuring Temidayo Oniosun, Managing Director, Space in Africa, Lagos, Nigeria.
A month ago a report on "Global Space Budgets – A Country-level Analysis" was released. This report examines the space budgets of 106 governments and analyses how they have changed between 2018 and 2020. It provides in-depth coverage of the growth recorded in different countries, regions, economic blocs, and continents. It sheds light on how governments worldwide have responded to the COVID-19 pandemic and how those responses have impacted space budgets.
In our conversation, we will discover the findings from the report like:
How has the global space budget changed in the last couple of years?
What effect has the pandemic had on it?
The audience will have an opportunity to ask questions in dialogue with Temidayo Oniosun.
This Space Café WebTalk will be hosted by Torsten Kriening, publisher of SpaceWatch.Global.
SpaceWatch.Global is a Switzerland-based digital magazine and portal for those interested in space and the far-reaching impact of the space sector.
This Space Café WebTalk will be conducted in English. Reserve your place today.