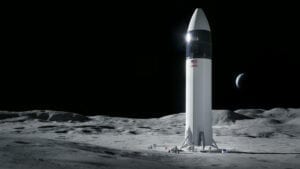 Paris, 19 April 2021. – It's a big deal: NASA has selected SpaceX's Starship to land two American astronauts on the Moon. The firm-fixed price, milestone-based contract total award value is $2.89 billion, NASA said.
The U.S. space agency chose SpaceX over competing proposals from Blue Origin and Dynetics to develop its first commercial human lander, NASA said. The choice was also based on the available budget, the agency indicated but did not specify the mission's date; it could take place in 2024.
NASA's Space Launch System rocket will launch four astronauts aboard the Orion spacecraft for their multi-day journey to lunar orbit. Two crew members will transfer to the SpaceX human landing system (HLS) for the final leg of their journey to the surface of the Moon. After a week exploring the lunar surface, they will return to Orion and their colleagues before heading back to Earth.
SpaceX's HLS Starship includes a spacious cabin and two airlocks for astronaut moonwalks. The Starship architecture is intended to evolve to a fully reusable launch and landing system designed for travel to the Moon, Mars, and other destinations, NASA said.
In parallel with executing this current so-called Appendix H award, NASA intends to implement a competitive procurement for sustainable crewed lunar surface transportation services that will provide human access to the lunar surface using the Gateway on a regularly recurring basis beyond the initial crewed demonstration mission, the agency added.