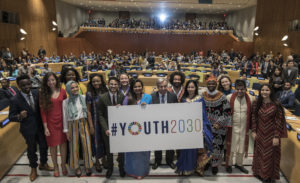 Paris, 26 March 2021. – Searching young global talent: The United Nations Office for Outer Space Affairs (UNOOSA) launched another edition of its Space4Youth competition which encourages young people to share their ideas on how to tackle climate challenges using space.
"To participate, anyone aged 18-35 years should submit an essay on 'Space as a tool to foster climate adaptation and mitigation', with concrete examples of how space science and applications can make a difference at the local, national or international level," UNOOSA said.
The competition is launched in cooperation with the Space Generation Advisory Council (SGAC) and wants to contribute to the Sustainable Development Goals (SDGs) of the UN.
Space4Youth is also part of Italy's preparation programme for the 26th Conference of the Parties of the United Nations Framework Convention on Climate Change (COP26), which will be held in Glasgow in November 2021.