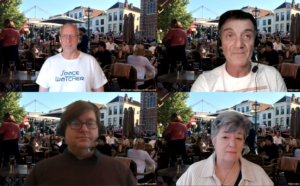 In the latest Space Café "Law Breakfast with Steven Freeland", Steven Freeland and Torsten Kriening welcomed Prof Tanja Masson-Zwaan and Prof PJ Blount to the historic Café Barerra in Leiden.
Over croissant and coffee, the panelists, along with a lively audience engaged in a revealing and insightful discussion dealing with many legal issues arising from everyday space activities, including the following:
the proposed Dubai Space Court
the unique features of commercial space contracts
how to resolve space disputes
what to do when international events overlap with the delivery of space satellites (in this case from Japan to Myanmar)
making movies in space
space tourism (gone mad?)
the problems and benefits of large constellations of small satellites
our 'rights' to a dark sky
the overall balance needed to determine what might be 'appropriate' space activities in the future
The panelists also gave their 'one word' to describe the wonders of space law – a tradition for all guests at the Space Café Law Breakfasts. Space law certainly means many things to many people and is such an interesting and relevant concept, even to the non-lawyers in the audience.
We hope that you will enjoy this discussion and will already put in your diary to join in the next Space Café "Law Breakfast with Steven Freeland" on 27 May with two more wonderful guests,   Jenni Tapio and Alexander Soucek. There are so many more issues to discuss.
Please let us know if there is a particular event or issue that you want our expert panel to help to 'demystify'. See you then!
The team also answered relevant questions from the audience.
This Space Café "Law Breakfast with Steven Freeland" was held on 25 March 2021.
SpaceWatch.Global
is a Switzerland-based digital magazine and portal for those interested in space and the far reaching impact of the space sector.
Here the video: