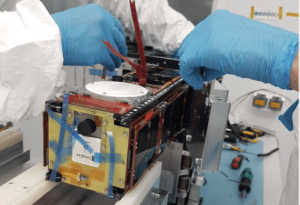 Paris, 9 March 2021. – The first of a hundred: The satellite 5G operator Sateliot prepares its first nanosatellite, together with Open Cosmos, for a launch on 20 March from the Baikonur Cosmodrome in Kazakhstan.
It is the this first of up to one hundred satellites that will make up the Sateliot constellation which is planned to "extend the IoT connection with 5G coverage globally and massively in the coming years", the company said.
The satellite dubbed 3B5GSAT weighs not more than ten kilogram and has arrived from the Harwell technology and innovation campus in the United Kingdom, where it has been manufactured, to Kazakhstan, Sateliot said. Open Cosmos has been responsible for the design and manufacture of the nanosatellite.
3B5GSAT will launch on a Soyuz 2.1A rocket, the company said, and will share the journey with the mission's main satellite, the South Korean earth observation satellite CAS500-1, as well as with 30 other satellites.
With its first 5G satellite in orbit, Sateliot wants to carry out field tests in a real environment, providing useful information for the evolution of its constellation, which is expected to start offering commercial service from 2022.