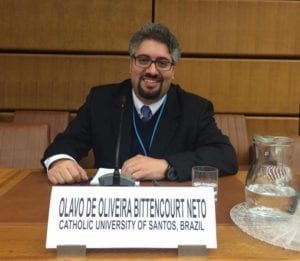 In this week's Space Café Brazil, Prof. Dr. Olavo de O. Bittencourt Neto, of the Catholic University of Santos, Brazil, talked about the space race's history and the beginning of the golden era of the United Nations treaties on outer space.
He also talked about the role of international space and policy law, national space law, and the recent developments in the space sector, like the current Mars and Moon Missions. He also expressed his thoughts about the space law area in Brazilian academia and his plans to improve this area in Brazil.
Olavo Bittencourt also answered relevant questions from the audience.
This Space Café Brazil, held on 10 February 2021, was hosted by Ian Grosner, correspondent of SpaceWatch.Global in Brazil.
SpaceWatch.Global
is a Switzerland-based digital magazine and portal for those interested in space and the far-reaching impact of the space sector.
Here the video: