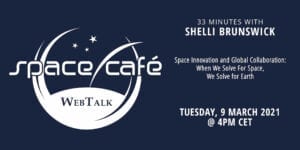 Join SpaceWatch.Global for an interesting and informative Space Café WebTalk featuring Shelli Brunswick, Chief Operating Officer at Space Foundation, USA. This event will take place on 9 March 2021 at 4:00 pm CET.
Shelli Brunswick will discuss the growing opportunities for space technology innovation in the $424 billion space economy and the importance of global collaboration.
Today, virtually every community, infrastructure, and aspect of modern life is profoundly reliant on or affected by space technologies. These innovations span weather forecasting, new materials for manufacturing goods, advanced global communications, healthcare discoveries, and precision farming — all which impact societies and regions across the globe.
Advocating for space technology innovation and entrepreneurship, Shelli and Space Foundation collaborate with commercial, government and educational sectors around the globe — Asia, UAE and Africa — on initiatives for space commerce, young professionals, teacher development, and space-inspired curriculum.
If you are interested in finding your place in the space ecosystem or collaborating with Space Foundation, this Space Café WebTalk with Shelli promises to inspire you to open the aperture to endless possibilities available in space exploration and space-inspired industries here on Earth.
This Space Café WebTalk will be hosted by Torsten Kriening, publisher of SpaceWatch.Global. The audience will have an opportunity to ask questions in dialogue with Shelli Brunswick.
SpaceWatch.Global is a Switzerland-based digital magazine and portal for those interested in space and the far-reaching impact of the space sector.
This Space Café WebTalk will be conducted in English. Reserve your place today.