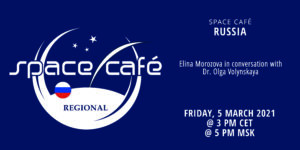 Join SpaceWatch.Global for an interesting and informative Space Café Russia featuring Dr Olga Volynskaya, LL.M, Corresponding Member of the Russian Tsiolkovsky Academy of Cosmonautics, Individual Member of the International Institute of Space Law, Moscow, Russia. This event will take place on 5 March 2021 at 3:00 pm CET.
Dr Olga Volynskaya will lift the veil on her work experience at Roscosmos State Space Corporation and the Ministry of Foreign Affairs of the Russian Federation. Beyond that, an informative discussion on factors influencing the development of the private space sector and the advancement of space law science in Russia will occur during the conversation. Dr Volynskaya will also talk about such acute international space law topics as legal issues of space resources mining and features of liability for space occurrences.
The audience will have an opportunity to ask questions in dialogue with Dr Olga Volynskaya.
This Space Café Russia will be hosted by Elina Morozova, Executive Director of the Intersputnik International Organization of Space Communications and friend of SpaceWatch.Global. 
SpaceWatch.Global is a Switzerland-based digital magazine and portal for those interested in space and the far-reaching impact of the space sector.
This Space Café Russia will be conducted in Russian language to engage more people in the ongoing dialogue on current space law and policy issues. Reserve your place today.