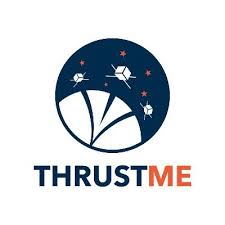 Paris, 21 January 2021. – The French space start-up ThrustMe has successfully tested the first iodine electric propulsion on a Chinese satellite in space, the company announced.
ThrustMe said it tested the first iodine-fueled electric propulsion system aboard the Spacety Beihangkongshi-1 satellite.
On 28 December 2020, the first iodine electric propulsion system to be launched into space was successfully fired, with a second successful test on 2 January 2021, the pioneering company said. Both test burns were performed by ThrustMe's NPT30-I2-1U propulsion system onboard the Beihangkongshi -1 satellite.
"This world first in-orbit demonstration has the potential to transform the space industry", ThrustMe said. "The space industry seeks new solutions to ensure economic and environmental space sustainability with the rise of satellite mega-constellations."
ThrustMe sees the use of iodine as a propellant as a breakthrough for the satellite industry.
"It allows propulsion systems to be delivered completely prefilled to customers, and for the satellite integration process to be significantly simplified and streamlined. Therefore, iodine offers the potential to provide both economic, and environmental sustainability for the space industry."