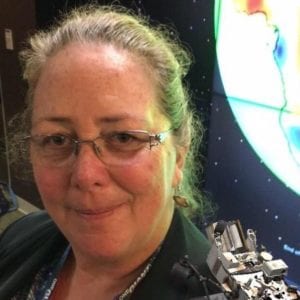 In this  Space Cafè Australia by Melanie Jane Ward, Jackie Carpenter, Managing Director at One Giant Leap Australia Foundation talked a space education initiative in Australia.
Before launching a Space Café to tell the stories of Australian space, we had to consider which guest to choose for the first episode. Although Australia appears to be early in our space history our country has a rich and lengthy heritage in space. There is no shortage of stories to feature from Australian space. 
For so many in space STEM outreach is how they started their learning journeys and it is what consequently what inspired them to start their own journey. It made sense to highlight someone working in such a critical sector for the future of space. So, we felt it was appropriate to highlight work being done out of New South Wales by Jackie Carpenter. Jackie is the founder and managing director of STEM initiatives that have reached students across Australia. These initiatives include One Giant Leap Australia, the One Giant Leap Australia Foundation and Gadget Girls. 
Our insightful first guest Jackie, took me through her own journey in this episode as well as what her work aims to do through outreach. Not only did she share her first experience with a STEM outreach program, but Jackie also took us through the journey which led her to establish her own STEM outreach programs. These programs she started have done a great deal throughout Australia, activities are not only being designed for students in the city, but also to accommodate students in remote outback Australia. One activity she does through One Giant Leap is through a collaboration with JAXA, The Japanese Space Agency sending seeds to the space station called, 'What about the Wattle'. This provides students the chance to collaborate with scientists overseas as well as with other schools in Australia, connecting us together during this time. You can find out more in the episode below! 
Thank you to Jackie for joining us on this first Space Café Australia. We encourage our readers to watch and then check out some of the amazing work she is doing across social media linked above. In addition, we also have a feature from one of her students, Aaron Popich, an army cadet telling us about his experience in One Giant Leap Australia! Read it here!
Jackie Carpenter also answered relevant questions from the audience.
This Space Cafè Australia, held on 13 January 2021, was hosted by Melanie Jane Ward, Correspondent of SpaceWatch.Global for Australia and New Zealand.
SpaceWatch.Global
is a Switzerland-based digital magazine and portal for those interested in space and the far reaching impact of the space sector.
Here the video:
You can find Jackie and the programs mentioned in this episode of Space Café Australia across social media:
https://www.linkedin.com/in/jackie-carpenter/
https://www.linkedin.com/company/onegiantleapoz/
https://www.linkedin.com/company/gadget-girlz/
https://www.facebook.com/onegiantleapoz
https://www.facebook.com/onegiantleapaustraliafoundation
https://onegiantleapfoundation.com.au/
https://onegiantleapaustralia.com/
https://www.youtube.com/channel/UC-xlOxRUsUE_XJAmowo2EYQ
https://www.youtube.com/channel/UC06FenJ1C2t0ZtKNWXTGOFw
https://www.instagram.com/onegiantleapoz/
Twitter @onegiantleapoz and @jackieslav
Email: [email protected]