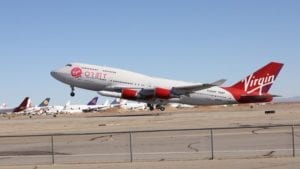 Paris, 18 January 2021. – A new chapter of space flight: Virgin Orbit successfully flew its small LauncherOne rocket from a Virgin Atlantic 747 airplane into orbit on Sunday, the company and its owner, Richard Branson, tweeted.
The launch marks the entry of another private entrepreneur in the launch market, after SpaceX and RocketLab. Branson also wants to take tourists to the edge of space, with his second space company, Virgin Galactic.
"Virgin Orbit has achieved something many thought impossible," Branson tweeted yesterday. "It was so inspiring to see our specially adapted Virgin Atlantic 747, Cosmic Girl, send the Virgin LauncherOne rocket soaring into orbit. This magnificent flight is the culmination of many years of hard work and will also unleash a whole new generation of innovators on the path to orbit."
The 21 meter long, two-stage LauncherOne carried ten small satellites for a NASA science and research program into space; they successfully deployed into their target orbit, the company said.