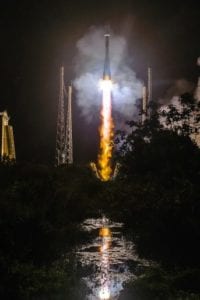 Luxembourg, 3 December 2020. – This time, it worked: After several launch attempts and a long delay due to the Covid pandemic, the United Arab Emirates (UAE) finally launched Falcon Eye, their military Earth observation satellite.
Falcon Eye 2 was successfully launched from the European Spaceport (CSG) in Kourou, French Guiana by an Arianespace Soyuz rocket, Airbus and Arianespace said yesterday.
The satellite that will support the needs of the UAE's Armed Forces was developed by Airbus Defence and Space and Thales Alenia Space as co-prime contractors. It weighed 1.2 tons at launch and will be raised to a helio-synchronous orbit of 611 km. Airbus Defence and Space was in charge of the satellite design, integration and test, and supplied the platform. Thales Alenia Space designed and supplied the optical instrument and the image processing chain.
A first Falcon Eye launch failed on a Vega rocket last year. It was the third Soyuz flight this year, Arianespace said.