by Blaine Curcio and Jean Deville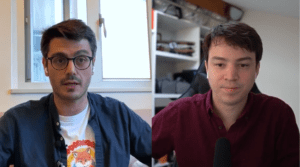 As part of the partnership between SpaceWatch.Global and Orbital Gateway Consulting we have been granted permission to publish selected articles and texts. We are pleased to present "Dongfang Hour China Aerospace News Roundup 7 Dec – 13 Dec 2020".
Hello and welcome to another episode of the Dongfang Hour China Aero/Space News Roundup! A special shout-out to our friends at GoTaikonauts!, and at SpaceWatch.Global, both excellent sources of space industry news. In particular, we suggest checking out GoTaikonauts! long-form China reporting, as well as the Space Cafe series from SpaceWatch.Global. Without further ado, the news update from the week of 7-13 December 2020.
iSpace making progress in the development of Hyperbola 2
iSpace announced that they had completed production of the fuel tank for the Hyperbola-2 rocket. The company's Hyperbola-2 will use liquid methalox fuel, and is China's first common bulkhead fuel tank for rockets above 3m diameter.
Common bulkhead tanks theoretically allow for more stability, more compactness, and less weight, although at the cost of complexity (structural distribution, thermal insulation). Given that we expect iSpace to launch their SQX-2 liquid methalox rocket next year, we may be in the midst of a liquid methalox rocket race among private Chinese space companies.
(for further info on common bulkheads: here)
iSpace also completed a week earlier a series of supersonic wind tunnel tests for the vertical landing phase, a crucial moment of the flight with complex aerodynamics and instability. The videos and images released show Schlieren photography done in a supersonic wind tunnel, testing the efficiency of the grid fins during the landing stage. The article also shows CFD simulations of the air flow during this phase.
Launch of Long March 11 with 2 CAS satellites
Last week, China saw a launch of a Long March 11 rocket, the 3rd launch of such a rocket in China in 2020. This launch received less cover overall, as it concurred with the Chang'e 5 hype that was taking place at the same time.
This launch of LM-11 took place at Xichang on the 9th of December, and put into orbit 2 smallsats of the GECAM mission (aka Gravitational Wave High-energy Electromagnetic Counterpart All-Sky Monitor), and initiated by the CAS Institute of High Energy Physics in Beijing.
Designated KX-08A and KX-08B, each satellite will embark a number of instruments to detect gamma/x wave bursts in the universe.
These satellites illustrate the growing role that China is playing in space sciences and astronomy, and follows other scientific missions such as Wukong satellite (Dark Matter Particle Explorer) launched in 2015, the Mozi quantum satellite in 2017, or the upcoming SMILE mission with ESA (solar wind-magnetospheric interaction panoramic imaging satellite).
Great article on C919 Suppliers
The Center for Strategic & International Studies (CSIS), a think-tank based in DC, published on Dec. 7 a good piece on the Chinese commercial aviation industry, and notably on the poor performance of COMAC, from both an industrial and technical point of view.
According to CSIS, while China has done admirably in turning itself into a high-tech superpower in a number of industries, commercial aviation is not part of them.
To justify this point, CSIS points to some of the recurring problems of COMAC, including:
The poor performance of COMAC A/C
The significant delays that the programs have experienced
The poor industrial productivity (based on the annual production rate)
The troubles with certification
And its reliance on foreign suppliers
Overall, a good piece with a recommended video linked at the top of the CSIS article. The article's perspective should be considered, but overall it provides some excellent info and analysis.
National Radio and Television Administration Announcement
China's NRTA announced this week plans for modernization of the country's broadcast sector. This includes several key phrases, namely "smart business", "UltraHD/4K", and also "Satellite internet/converged two-way services" (融合双向业务).
The announcement also hits on the convergence of TV and internet access, that is, most TV can be delivered via internet access. Other points of note in the announcement included a call to build a cloud platform for satellite broadcast (建设直播卫星云平台), and to develop "two-way communications" for satellite broadcast that allow for things like online shopping, smart homes, and digitization of small towns (开展直播卫星双向融合业务试验, 推进智能家庭生态、高新视频服务、"数字乡村"栏目、应用商城在直播卫星上的应用试验).
Overall, the announcement should be taken as an indication that China wants to modernize its relatively archaic linear broadcast industry. While some provinces have seen very successful broadcast stations, most notably Hunan Television, which at one time was China's second-most popular TV station (behind only CCTV1)  As noted in previous episodes, historically ChinaSat's broadcast business has predominantly been provincial TV stations, many of which  are currently struggling financially.  For those who want a more in-depth look at Hunan TV in particular, a good article from The Economist from earlier this year.
Dongfang Hour reaches 100+ subscribers!
Last but not least, the Dongfang Hour channel has reached 100+ subscribers this week, with a 10% jump in the last few days. While this remains a modest figure, we would like to address a big thanks to our viewers for their support, and hope to bring more valuable content on Chinese aerospace and tech in 2021!
This has been another episode of the Dongfang Hour China Aero/Space News Roundup. If you've made it this far, we thank you for your kind attention, and look forward to seeing you next time! Until then, don't forget to follow us on YouTube, Twitter, or LinkedIn, or your local podcast source.
Follow DongFang Hour on Twitter @DongFangHour , Youtube or on https://dongfanghour.com
Blaine Curcio has spent the past 10 years at the intersection of China and the space sector. Blaine has spent most of the past decade in China, including Hong Kong, Shenzhen, and Beijing, working as a consultant and analyst covering the space/satcom sector for companies including Euroconsult and Orbital Gateway Consulting. When not talking about China space, Blaine can be found reading about economics/finance, exploring cities, and taking photos.
Jean Deville is a graduate from ISAE, where he studied aerospace engineering and specialized in fluid dynamics. A long-time aerospace enthusiast and China watcher, Jean was previously based in Toulouse and Shenzhen, and is currently working in the aviation industry between Paris and Shanghai. He also writes on a regular basis in the China Aerospace Blog. Hobbies include hiking, astrophotography, plane spotting, as well as a soft spot for Hakka food and (some) Ningxia wines.