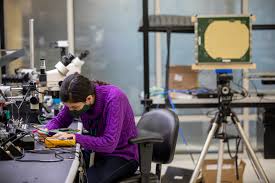 Luxembourg, 18 December 2020. – Amazon developed a low-cost customer terminal for its satellite broadband constellation Kuiper.
"Months after receiving approval from the Federal Communications Commission, Project Kuiper has hit another key milestone on its path to delivering fast, affordable broadband through a constellation of 3,236 low Earth orbit satellites," Amazon said.
"We recently completed initial development on the antenna for our low-cost customer terminal, a critical part of the Kuiper System that allows customers to connect to satellites passing overhead."
"The Ka-band phased array antenna is based on a new architecture capable of delivering high-speed, low-latency broadband in a form factor that is smaller and lighter than legacy antenna designs. Our prototype is already delivering speeds up to 400 Mbps (Megabits per second), and performance will continue to improve in future iterations," Amazon said.