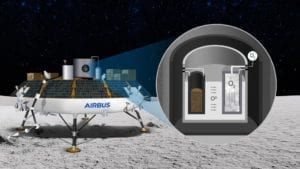 Luxembourg, 27 October 2020. – Airbus Defence and Space presented a technology to produce oxygen from lunar dust, the company announced.
The breakthrough process and reactor invented by Airbus and named ROXY (Regolith to OXYgen and Metals Conversion) could revolutionize human space exploration and contribute to UN sustainability goals on Earth, the company said.
The production of oxygen and metals from simulated lunar dust (regolith) was demonstrated by an international team led by Airbus Defence and Space (Friedrichshafen, Germany) with scientists from Fraunhofer Institute for Manufacturing Technology and Advanced Materials IFAM (Dresden, Germany), Boston University (Massachusetts, USA) and Abengoa Innovación (Seville, Spain).
"After two years' development the breakthrough came last month, during a series of laboratory tests at Fraunhofer IFAM," Airbus said. "Oxygen was extracted from a sample of simulated lunar dust. This is a small first step, but the way towards an operational system is now clear. Oxygen is indispensable for all human space activities, and this new ROXY production method, which directly uses Moon dust could revolutionise human activities on the lunar surface."
ROXY could be the heart of an integrated value chain using additive layer manufacturing to produce a wide range of products 'Made on the Moon', Airbus said. "These could include metals, alloys and oxygen. Combined with lunar ice, it would even be possible to produce rocket fuel from ROXY metal powder."
On Earth, Airbus thinks, "ROXY opens a new pathway to drastically reduce the emissions of greenhouse gases that result from production of metals" – "another example of how space technologies can improve life on Earth."