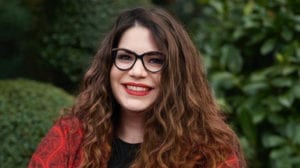 In this week's Space Cafè WebTalk, Maruska Strah, Executive Director of the World Space Week Association talked about the World Space Week and its importance for bringing understanding of space related activities to a wider general public.
In 2019, the World Space Week Association reported over 8,000 events in 96 countries. She talked about staying connected even during the challenging 2020 and this year's theme of World Space Week, "Satellites improve life". More information about World Space Week can be found here.
She also answered relevant questions from the audience.
This Space Cafè WebTalk, held on 8 September 2020, was hosted by Torsten Kriening, publisher of SpaceWatch.Global. The Space Cafè WebTalk series is SpaceWatch.Global's innovative webinar platform featuring global space experts.
The complete video can be seen here: