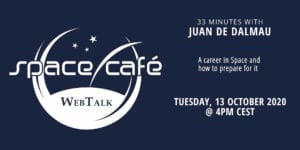 Join SpaceWatch.Global for an interesting and informative Space Café WebTalk featuring Juan de Dalmau, President of the International Space University (ISU), Strasbourg, France .  This event will take place on 13 October 2020 at 4:00 pm CEST.
Juan de Dalmau will discuss education programs and network opportunities to be prepared for a career in the global space industry. He will also talk about how the International Space University develops the future leaders of the world space community. ISU provides interdisciplinary educational programs to students and space professionals in an international, intercultural environment.
This Space Café WebTalk will be hosted by Torsten Kriening, publisher of SpaceWatch.Global. The audience will have an opportunity to ask questions in dialogue with Juan de Dalmau.
This Space Café WebTalk will be conducted in English. Reserve your place today.