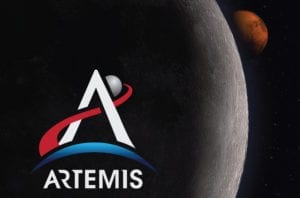 Berlin, 22 September 2020. – NASA has revealed details of its accelerated Artemis mission plan to land humans on the Moon in 2024, more than 50 years after the last Apollo lunar mission in 1972.
The U.S. space agency's plan specifies key milestones for building, testing and launching its powerful new Space Launch System (SLS) rocket and the Orion spacecraft to land humans on the Moon.
NASA aims for a first unmanned mission, Artemis I, in 2021, following the completion of the Orion spacecraft and the final rocket tests. "The spacecraft is complete while the core stage and its attached four engines are undergoing a final series of tests that will culminate in a critical hot fire test this fall", the agency said in a press release on 21 September.
Following this test, the core stage of the rocket will be shipped to Kennedy Space Center in Florida to integrate it with the spacecraft and launch SLS and Orion together on two test flight around the Moon. "The first mission – known as Artemis I – is on track for 2021 without astronauts, and Artemis II will fly with crew in 2023," NASA said.
The agency foresees "humanity's return to the surface of the Moon" for 2024, with Artemis III landing astronauts on the lunar South Pole. "Wearing modern spacesuits that allow for greater flexibility and movement than those of their Apollo predecessors, astronauts will collect samples and conduct a range of science experiments over the course of nearly seven days. Using the lander, they will return to lunar orbit before ultimately heading home to Earth aboard Orion."
In the meantime, starting next year, the U.S. space agency will conduct scientific investigations and demonstrations by using robots on the Moon, the agency said. It has invited commercial partners to bid on flying payloads to explore the Moon surface and regolith, measure the Earth-Moon distance and solar winds, test radiation-resistant electronics, study the electric and magnetic fields as well as the heat flow from the Moon interior, develop methods to bring Moon regolith back to Earth, collect images from the Moon surface during landing and deploy the first GPS positioning signals on the Moon.
"With bipartisan support from Congress, our 21st century push to the Moon is well within America's reach," said NASA Administrator Jim Bridenstine. "As we've solidified more of our exploration plans in recent months, we've continued to refine our budget and architecture. We're going back to the Moon for scientific discovery, economic benefits, and inspiration for a new a generation of explorers. As we build up a sustainable presence, we're also building momentum toward those first human steps on the Red Planet."