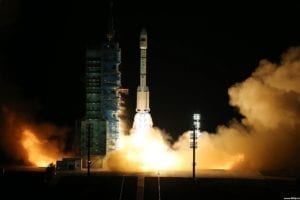 Jiuquan, China, 6 September 2020. – China's reusable experimental spacecraft returned to the scheduled landing site in northwest China on Sunday after a two-day in-orbit operation, the official Chinese Xinhua news agency reported 6 September.
The spacecraft was launched with a Long March-2F carrier rocket from the Jiuquan Satellite Launch Center in the Gobi desert on 4 September 2020.
"The successful flight marked the country's important breakthrough in reusable spacecraft research and is expected to offer convenient and low-cost round trip transport for the peaceful use of the space", the agency said. No further details about the mission or the spacecraft or its "peaceful use of the space" were disclosed.
The spacecraft released an unknown object, according to trade press reports, and industry experts revived speculation that the mission could be a milestone in China's apparent efforts to develop a spaceplane capable of landing horizontally.
The launch was the 14th mission of the Long March-2F carrier rocket, Xinhua added.