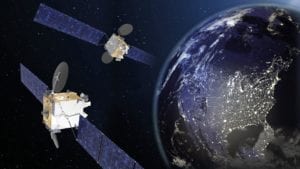 Thales Alenia Space, a joint-venture between Thales (67%) and Leonardo (33%), announced that it has signed a contract with SES to build SES-22 and SES-23, geostationary communications satellites. These two new satellites are designed to provide digital broadcasting services over North America.
Thales Alenia Space will be responsible for the design, production, testing of the satellites and support of the payload in-orbit acceptance tests. SES-22 and SES-23 are based on the proven Spacebus 4000 B2 platform and will be 3.5-ton class satellites at launch.
These satellites are the 11th and 12th satellites based on the Spacebus 4000 B2 platform to be built by Thales Alenia Space. The two satellites will help SES meet the Federal Communications Commission's accelerated C-band clearing deadlines in the United States and will contribute to the effort to clear spectrum necessary to roll out 5G in the United States.
Hervé Derrey, President and Chief Executive Officer of Thales Alenia Space, said "The robustness and flight proven heritage of our Spacebus 4000 B2 platform, combined with our ability to timely and quickly deliver SES-22 and SES-23, have been key elements leading to the decision of SES working with us to replace its existing C-Band fleet. This demonstrates Thales Alenia Space's expertise in developing tailored solutions that meet each operator's specific needs to clear the C-Band spectrum."