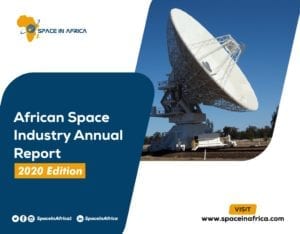 Highlights
Over USD 4 billion have been spent on satellite development in Africa up till date.
For 2020, African governments budgeted an estimated USD 490 million towards their space programme compared to USD 250 million in 2019.
African would have launched at least 110 Satellites by 2024 compared to the 41 launched so far.
Space in Africa has released the 2020 Edition of the African Space Industry Annual Report.
The report builds on the 2019 industry report which reported the industry is over USD 7 billion of annual revenues and is projected to grow at a 7.3% compound annual growth rate to exceed USD 10 billion by 2024. 2019 was the best year in the history of the African space industry with over USD 717 million spent on satellite projects. Up till date, over USD 4 billion have been spent on satellite development and launch in Africa.
Rapidly Growing Government Involvement and Increasing National Space Budgets
The sector is seeing the emergence of new government space programmes with the governments of Egypt and Rwanda establishing fully operational space agencies during the 2nd half of 2019 and 1st half of 2020. With other countries announcing their national space program, this translates to an increase in national budgetary allocation for space. For 2020, African governments budgeted an estimated USD 490 million towards their space programme compared to USD 250 million from the previous year, excluding capital expenditures on the acquisition of satellites.
Increasing Number of Satellite Projects and Expenditure
In 2019, governments and institutions from five African countries launched eight new satellites, bringing the total number of African satellites to ever arrive in orbit to 41; with the number of African countries with at least one satellite in space increasing from eight to 11. With more satellites under development by institutions across the continent, more African countries are joining the league. It is estimated that by 2024, at least 19 African countries would have launched a satellite and the total number of African satellites would have reached 110, from the current 41.
Although satellite programmes on the continent greatly suffered in 2020 in terms of budget constraints, disruption in production and logistics, and unstable international outlook as a result of the coronavirus pandemic. This has not hindered the long-term objectives of most satellite programmes by governments and the commercial space sector. In some instances, the pandemic facilitated the need for re-evaluation of existing solutions in favour of more robust space-enabled solutions.
Expansive Space Industry Landscape
Satellite-enabled products and services dominate the African commercial space economy with most of the revenue-generating segments controlled by global and regional communications satellite operators. The industry comprises of a nascent upstream sector involving African-grown small satellite systems and payload manufacturers and a maturing downstream sector comprising of satellite services providers offering satellite internet broadband, broadcast and media, EO and geospatial data, GNSS, fixed and mobile asset tracking, maritime surveillance, alongside ground station and equipment manufacturers. Africa sees considerable growth in space science and astronomy products and services, primarily driven by demand from government and academic institutions as a result of increasing multimillion-dollar investments in observatories and telescope projects across the continent.
Policy Change
As of July 2020, 19 African countries have established or began the process of creating a space programme. Of these 19 States, only 15 have signed the Outer Space Treaty, 14 have signed the Rescue Agreement, 12 have signed the Liability Convention, four have signed the Registration Convention, and only Morocco has signed the Moon Agreement. These trends highlight Africa's growing adoption of policies and international conventions to promote the development of national or continental space initiatives. For instance, the newly established Rwandan Space Agency focused more on drafting a national space policy before the establishment of a space agency. More African countries are beginning to acknowledge the success of space programmes as being partly influenced by the structure and support of an underlying policy and strategy. Tunisia and Senegal have reoriented their ambitions towards drafting policies, Nigeria is revising its space policy and strategy and South Africa, noting the current developments in the space arena, is tabling a new bill to stay abreast of industry expectations.
Space for Sustainable Development
In 2015, the Sustainable Development Goals document was submitted to the United Nations and was ratified by partner countries. In 2016, countries started implementing goals across the world. African countries, having participated actively in the execution of the MDGs, are also top participants in the SDGs execution race. To achieve the SDGs, many countries are looking to space towards the implementation of the goals. In the last two years, Africa has executed several SDGs projects using space technology in line with the UN SDGs and the Africa 2063 Agenda.
Rising Geopolitical and Commercial Interest of Foreign Partners in Africa's Space Sector
The African Union Commission continues to pursue a continental space programme following its enactment of the African Space Policy and approval of the African Space Strategy as well as plans to operationalise the African Space Agency. There is an increasing trend in interest and strategies of foreign governments in an attempt to claim a significant market share of Africa's growing space industry and, in some instances, maintain a geopolitical dominance of the sector as a vital diplomatic or military alliance. The report highlights China, European Union, Japan, France, Russia, the United Kingdom and the United States of America as case studies across commercial, development and diplomatic fronts.This 2020 edition of the Africa Space Industry Annual Report is published by Space in Africa. It presents data and analyses on projects, deals, partnership and investments across the continent. It also provides analyses on the growing demand for space technologies and data on the continents, the business opportunities it offers and the necessary regulatory environment in the various countries.
The 2020 edition of the Africa Space Industry Annual Report is
available here
.