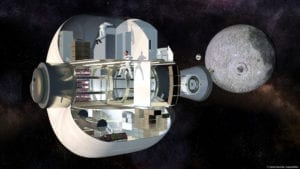 Sierra Nevada Corporation (SNC), a global aerospace and national security company owned by Eren and Fatih Ozmen, is continuing to advance its development of the company's LIFE Habitat (Large Inflatable Fabric Environment) under Phase 3 of NASA's Next Space Technologies for Exploration Partnerships (NextSTEP-2) Appendix A habitat program. In Phase 3, NASA has asked companies to focus on habitat design concepts that could be used on the lunar surface or as a Mars transportation habitat to test at the Gateway.
"Our habitat design is so unlike any other that it truly demonstrates SNC's technology ingenuity and innovation," said SNC CEO Fatih Ozmen. "We are excited to continue our support of human exploration in low-Earth orbit, for the Artemis lunar missions, and eventually missions to Mars, making space accessible and affordable."
SNC's LIFE habitat is unique in that it launches on a conventional rocket and inflates on-orbit to a large structure that is three stories tall, and 27 feet in diameter. It can comfortably sleep four astronauts, with additional room for science experiments, exercise equipment, a medical center and SNC's Astro Garden system, which the company is developing as an option to grow fresh produce for astronauts on long-duration space missions.
Phase 3 LIFE habitat maturation under NextSTEP-2 is also directly applicable to SNC's role in leading development of the crew module for a proposed human landing system for the Artemis program, as part of the Dynetics Corporation-led team. SNC is responsible for the systems integration, human rating and safety and mission assurance of the HLS crew module.
"Our LIFE habitat offers unique capabilities for both lunar and Mars applications, making it the best, most versatile option for taking crews on long-duration missions," said former NASA astronaut Janet Kavandi, now senior vice president of programs for SNC's Space Systems Group.
SNC's full scale LIFE habitat prototype was delivered to NASA's Johnson Space Center in May 2019 where it successfully completed a very positive crew evaluation. Phase 3 work, which includes risk reduction and maturing the concept to System Definition Review (SDR) maturity, a major accomplishment in the overall habitat development, will continue through the end of 2020.  This work advances SNC's LIFE module as a compelling and competitive candidate for NASA's future deep space habitation applications.
For more information, visit www.sncorp.com.