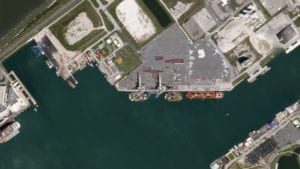 The fleet of high-resolution imaging satellites at Planet just welcomed three new satellites to the family. On August 18, 2020, SpaceX's Falcon 9 rocket launched SkySats 19, 20 and 21 on yet another successful Starlink rideshare mission. Much like SkySats 16-18, which were launched by SpaceX on June 13, 2020, SkySats 19-21 were successfully injected into a drop-off orbit of approximately 207 x 370 km, 53 degree inclination.
Over the next several weeks the SkySat satellites will use their onboard propulsion to boost themselves up to their operational altitude of 400 km, and also begin phasing their orbital plane with respect to SkySats 16-18 in order to maximize coverage and revisit. Thanks to Exolaunch who helped deploy these most recent six SkySats with their CarboNIX deployer rings. These three new SkySats join the 18 others already in orbit and significantly expand our capacity to provide world class, high-resolution images to a variety of commercial, governmental, academic and non-profit organizations.
SkySats 19-21 are also the final SkySats to be built and launched, completing the campaign of 21 satellites originally planned by the SkyBox team in 2009. Eleven years later, the innovation of the SkySat design and mission remains world-class and continues to move the high-resolution satellite industry forward.
It's been a busy few months at Planet, with both SkySat and SuperDove launches stacking up as the launch industry recovers from the COVID-19 pandemic. Our satellite Mission Operations teams are hard at work bringing all the satellites online, so stay tuned to Planet Pulse and Twitter for more launch and satellite operations updates.