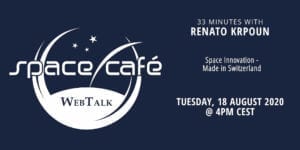 Join SpaceWatch.Global for an interesting and informative Space Café WebTalk featuring Renato Krpoun, Head of the Swiss Space Office at the State Secretariat for Education, Research and Innovation SERI, Switzerland. This event will take place on 18 August 2020 at 4:00 pm CEST.
Renato Krpoun will share his thoughts about Swiss innovation and the potential of small space fairing nations. He will talk about Swiss heritage in space and about the diversity of Swiss contributions to ongoing and planned missions and will explain why it is not a surprise that investments in Switzerland's space startups were arising sharply last year.
This Space Café WebTalk will be hosted by Torsten Kriening, publisher of SpaceWatch.Global. The audience will have an opportunity to ask questions in dialogue with Renato Krpoun.
This Space Café WebTalk will be conducted in English. Reserve your place today.