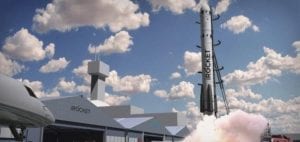 iRocket announced that the company signed a Phase II RAPID Other Transaction Agreement contract with the U.S. Air Force, on the heels of the phase I contract where iRocket partnered with Space and Missile Systems Center (SMC) in Albuquerque, N.M., and Air Force Research Lab at Wright-Patterson Air Force Base, Ohio.
iRocket is a privately-funded New York startup building autonomous small reusable rockets that can support 300kg and 1500 kg payloads for space research and exploration. The company will transport micro, nano, cube, and other satellite constellations to LEO on its Shockwave launch vehicle.  iRocket plans to disrupt the small satellite market and will offer on-orbit satellite servicing capabilities by 2025.
"iRocket is on a mission to help end the 'digital divide' by delivering high-speed internet satellites to LEO, carry experiments for biotech companies that are conducting cancer research in microgravity, to support IoT constellation customers and National Security Missions," says iRocket CEO Asad Malik.
iRocket's Shockwave will be a fully autonomous two-stage launch vehicle and is presented as the only fully-reusable small launcher available, with the first and second stages landing back on the launch site. iRocket will prove inland launch capabilities to the Department of Defense and plans to be be mission capable of launching within 24 hrs. iRocket plans to launch its rockets from Launch Complex 48 at Kennedy Space Center in Cape Canaveral, Fla.
For more information visit irocketusa.com