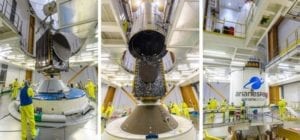 The heavy-lift Ariane 5 for Arianespace's fifth mission of 2020 is now complete, following integration of its three modules at the Spaceport in French Guiana. During activity in Ariane 5's Final Assembly Building, the upper payload component – containing Galaxy 30 (G-30) and the Mission Extension Vehicle-2 (MEV-2) in a stacked configuration – was lowered into position over BSAT-4b, which is installed atop the launcher's central core.
This step clears the way for final checkout, which will enable the launch readiness review on July 24, followed by Ariane 5's rollout to the Spaceport's ELA-3 launch zone the following Monday. Liftoff is set for the evening of Tuesday, July 28 to deploy the triple payload into geostationary transfer orbit. The upcoming mission is designated Flight VA253 in Arianespace's numbering system. Total payload lift performance is an estimated 10,468 kg.
G-30: a milestone spacecraft
G-30 is the first satellite in Intelsat's Galaxy fleet replacement program, and its C-band relay capacity will be integral to the U.S. C-band spectrum transition plan that Intelsat is collaborating on with the U.S. Federal Communications Commission. Additionally, G-30 is to provide Ku- and Ka-band relay capability in support of broadband applications, and it carries the Wide Area Augmentation System (WAAS) hosted payload for the U.S. Federal Aviation Administration. Based on Northrop Grumman's flight-proven GEOStar-2 platform, G-30 is the 11th Northrop Grumman-built satellite purchased by Intelsat.
MEV-2: new-generation satellite servicing
The MEV-2 passenger for Flight VA253 was supplied by SpaceLogistics, a wholly-owned Northrop Grumman subsidiary, and it is designed to dock with geostationary satellites whose fuel has nearly depleted, thereby extending their useful lifetimes. After its deployment by Ariane 5, MEV-2 will rendezvous and dock in early 2021 with the Intelsat 10-02 (IS 10-02) satellite, originally launched in 2004. The Mission Extension Vehicle will use its own thrusters and fuel supply to control the IS 10-02 satellite's orbit. 
BSAT-4b: reinforcing reliability
Japanese operator B-SAT ordered the BSAT-4b satellite from Maxar in 2018 to ensure 4K/8K ultra-high definition direct-to-home video distribution across the Japanese region. It will serve as a back-up geostationary satellite for BSAT-4a, which also was built by Maxar and launched by Arianespace in September 2017. Equipped with 24 Ku-band transponders, BSAT-4b was designed for a service lifetime of 15 years or longer and is based on Maxar's popular 1300-class spacecraft bus for commercial communications satellites.
More information at https://www.arianespace.com/mission-update/va253-ariane-5-fully-assembled/