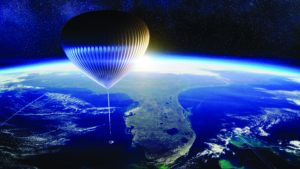 Space Perspective announced its plans to fly passengers and research payloads to the edge of space with its Spaceship Neptune, a high-performance balloon and pressurized capsule. The human space flight company plans to launch from the iconic Shuttle Landing Facility at NASA's Kennedy Space Center (KSC) in Florida, with the first un-crewed test flight scheduled in early 2021 that will include a suite of research payloads.
"We're committed to fundamentally changing the way people have access to space – both to perform much-needed research to benefit life on Earth and to affect how we view and connect with our planet," said Space Perspective Founder and Co-CEO Jane Poynter. "Today, it is more crucial than ever to see Earth as a planet, a spaceship for all humanity and our global biosphere."
The company has completed extensive international market research and a new design built on 50+ years of proven technology. Spaceship Neptune was developed from the ground up for maximum safety, accessibility, near zero-emissions and routine operations around the world. The balloon measures the length of a football stadium and the pressurized capsule is comfortable and spacious.
Flown by a pilot, Neptune takes up to eight passengers called "Explorers" on a six-hour journey to the edge of space and safely back, where only 20 people have been before. It will carry people and research payloads on a two-hour gentle ascent above 99% of the Earth's atmosphere to 100,000 feet, where it cruises above the Earth for up to two hours allowing passengers to share their experience via social media and with their fellow Explorers. Neptune then makes a two-hour descent under the balloon and splashes down, where a ship retrieves the passengers, the capsule, and the balloon. Neptune's commercial human spaceflight launches are regulated by the FAA Office of Commercial Spaceflight.
"Following the return of human spaceflight from U.S. soil just a few weeks ago, people have never been more excited about space travel," said Founder and Co-CEO Taber MacCallum. "Few endeavors are more meaningful than enabling people to experience the inspiring perspective of our home planet in space for the betterment of all, and that's what we are accomplishing with Space Perspective."
Opening the first research and education laboratory at the edge of space
Science and education are also core to Space Perspective's mission, and the company is working with researchers, educators and students from academic institutions and organizations. Payloads are already being manifested to fly on the first test flight in 2021. Neptune is suited for research areas of interest including:
Atmospheric science that could shed light on Earth's climate and air systems
Astro- and solar-physics to illuminate understanding of the universe
Astrobiology to explore the limits of life on the planet and beyond
Space for Humanity, a nonprofit, has chosen Space Perspective as a preferred partner for their Citizen Astronaut Program and scientific research.
"Space for Humanity is cultivating a movement to expand access to space for all of humanity, and this partnership represents a big leap in making that happen," said Dylan Taylor, Founder of Space for Humanity and CEO of Voyager Space Holdings. "We are excited about the possibilities this partnership opens up for us, and what it means for all the participants that will be able to view our home planet from the edge of space."
Homebase at KSC
Space Perspective has signed a lease agreement with Space Florida, the state's aerospace and spaceport development authority, to locate its first Operations Center at the Midline Building at the Launch and Landing Facility (LLF), formerly known as the Shuttle Landing Facility (SLF). Space Florida currently operates and manages the LLF and accompanying facilities under a 30-year property agreement with NASA. "Space Perspective is bringing a fundamentally new capability to the Cape, which will enhance the offering we have in Florida for space-related research and tourism," said Space Florida President and CEO Frank DiBello. "Its presence here in Florida creates not just job and supply chain opportunities, but opportunities for civilian astronauts to experience this planet Earth from the Edge of Space, a privilege previously available to only a few. Its selection of our state marks a new era of spaceflight for Florida!"
Space Perspective and NASA have entered into a Space Act Agreement under which NASA may provide uniquely capable services available at KSC to Space Perspective on a reimbursable basis.
In addition to launching from KSC, Space Perspective will launch from Cecil Spaceport in Florida, and is planning to have future launch sites around the world, including Alaska, Hawaii and several international spaceports
Leadership with decades of high-performance balloon experience
Our leadership and crew members have led, developed or operated all human balloon flights to the edge of space in the past 50 years. The serial entrepreneurs Poynter and MacCallum co-founded World View Enterprises with its innovative balloon-based Stratollite for remote sensing, and Paragon Space Development Corporation, a human spaceflight technology firm. They were also part of the team that designed the air, food and water systems for Biosphere 2 in the early 90s and were on the first two-year mission inside. MacCallum is Chairman of the Commercial Spaceflight Federation and was chief technology and safety officer for StratEx, a project that launched Google Executive Alan Eustace to 136,000 feet under a balloon and returning him safely under parachute to earth, breaking the Stratos Spacedive record in 2014. Eustace is a Space Perspective board member. Kirby Harris with Base Ventures, a Silicon Valley Venture Capital firm and Space Perspective lead investor, also serves on the board. NASA Astronaut Jeff Hoffman will serve as senior technical advisor.
To learn more about Space Perspective, visit TheSpacePerspective.com. Visit this link to view the electronic media kit, including leadership headshots, conceptual imagery and video.
This announcement was made on 18 June 2020 on The Space Perspective.  Space Perspective is a human space flight company committed to fundamentally changing people's view and perception of Earth. Using a high-performance balloon and pressurized capsule technology that gently travels to and from the edge of space over a six-hour period, the spacecraft offers opportunities for groundbreaking research and life-changing travel experiences for world explorers. Space Perspective is led by a team of professionals that have developed or operated all human balloon flights to the edge of space in the last 50 years. For more information, visit TheSpacePerspective.com.