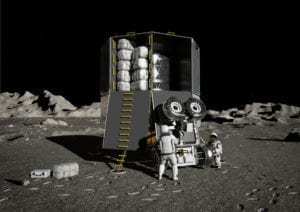 The European Space Agency (ESA) is asking "What would you do with a large European lander on the Moon?"
In a video message ESA Director General Jan Wörner issued a Call for Ideas: the ESA is looking for your ideas for missions to the Moon that could be delivered using a European Large Logistic Lander (EL3). This lander is being prepared to deliver around 1.5 tonnes of payload to locations from the equator to the poles; from the near side to the far side. Missions deployed by this lander could range from cargo supply to support human missions, to astrophysical observatories, or missions which rove across the surface, dip into shadows or explore lunar caves. This is not a one shot deal. The plan is for a cadence of missions from the late 2020s into the 2030s. The EL3 lander is being prepared as part of the European Exploration Envelope Programme (E3P) in the Directorate of Human and Robotic Exploration (HRE).
If you could fly your mission, what would you do? Where would you go? Why?
The aim of this Call for Ideas is to gather the best concepts in Europe and beyond, and from these to build a portfolio of mission concepts for study. One of these missions may be taken forward as a proposed mission concept on EL3 at the next ESA Council at Ministerial level. Other mission ideas may be considered for later opportunities. Mission ideas will be used to help define the design of the lander to be suitable for a diverse set of uses and users, from science and technology to applications we have not even thought of yet.
Final selection of consolidated and developed mission concepts, based on successful ideas, will lead to the issue of Open Competition Pre-Phase A studies.  Therefore, your ideas may shape what ESA will look into in the future!
Scope for Mission Ideas – What type of Ideas we are looking for?
ESA is looking for ideas which address the agency's strategic goals in exploration:
To inspire
To create new knowledge
To grow international cooperation
To create economic growth and industrial competitiveness
Of particular interest are ideas that address:
ESA's Strategy for Science at the Moon (here)
ESA's Strategy for Space Resources (here)
ESA's Technology Strategy  (here)
Novel and innovative technologies and solutions to exploration challenges; e.g. energy, transportation, mobility, habitation, communication, navigation, resources, radiation, dust, life support etc.
Engagement of actors from outside the space sector to address these challenges
Opportunities for international cooperation and partnerships
Engagement of the public to share in the journey that lies ahead
The primary interest is in those mission concept ideas that could credibly be undertaken between the late 2020s and late 2030s.
For more details on the process, as well as its timeline, please click here to access the ESA Ideas website.