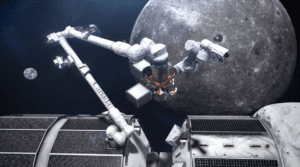 Canada is taking another important step forward in its participation in the next chapter of Moon exploration. Today, the Honourable Navdeep Bains, Minister of Innovation, Science and Industry, announced Canada intends to enter into a contract with Brampton-based company MacDonald, Dettwiler and Associates Inc. (MDA) to build Canadarm3.
This smart robotic system is Canada's contribution to the United States-led Lunar Gateway for the Artemis program, the next major international collaboration in human space exploration, which forms the cornerstone of Exploration, Imagination, Innovation: A New Space Strategy for Canada. The development of Canadarm3 will extend and strengthen Canada's well-established global leadership in space robotics. It will also help grow our economy, create the jobs of tomorrow, and get young Canadians interested in pursuing studies and careers in STEM disciplines.
Canadarm3 will be composed of a next-generation smart robotic arm, a small dexterous arm and a set of specialized tools. Using advanced machine vision, cutting-edge software and advances in artificial intelligence, this highly autonomous system will be able to perform tasks without human intervention.
With four decades of expertise gained from flagship space robotics programs like the original Canadarm, Canadarm2 and Dextre, MDA is at the centre of a dynamic ecosystem of innovative small and medium-sized businesses and research organizations from across the country. Hundreds of Canadian companies are expected to be involved in the development of Canadarm3, working with MDA and research organizations to drive innovation and Canadian excellence in emerging technologies. The development of Canadarm3 will involve the application of the Industrial and Technological Benefits (ITB) Policy, which will ensure the participation of the broader Canadian supply chain and help motivate investments in key industrial capabilities within Canada's space sector.
In 2019, Canada became the first nation to join the United States-led Lunar Gateway, the next major international collaboration in human space exploration following the legacy of the International Space Station. The Gateway is an important part of an ambitious plan by NASA and international partners, including Canada, to send humans deeper into space than ever before.
This announcement was made on 26 June 2020 by Canadian Space Agency.