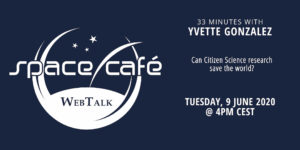 Join SpaceWatch.Global for an interesting and informative Space Café WebTalk featuring Yvette Gonzalez, Director of Outreach for the International Institute of Astronautical Sciences & Project PoSSUM. This event will take place on 9 June 2020 at 4:00 pm CEST.
Yvette Gonzalez will share her thoughts about the future of Citizen Science research, including application and deployment, support of sustainable development goals, engaging unexpected multidisciplinary experts, why it is a conduit for the next generation in STEM, and ultimately how it enables diversity and inclusion for space exploration.
This Space Café WebTalk will be hosted by Torsten Kriening, co-publisher of SpaceWatch.Global and COO of ThorGroup GmbH. The audience will have an opportunity to ask questions in dialogue with Yvette Gonzalez.
This Space Café WebTalk will be conducted in English. Reserve your place today.