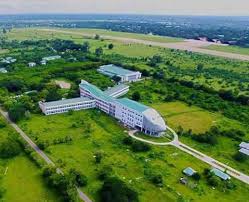 Myanmar is to build and launch a small Earth observation satellite by 2021 with the assistance of Japan.
Engineers and technicians from the Myanmar Aerospace Engineering University will travel to Japan as soon as travel restrictions imposed due to the Coronavirus pandemic are lifted, where they will be trained and educated by satellite engineering faculty at the Hokkaido and Tohoku Universities.
The small satellites will weigh approximately 50 kilograms and measure 50 x 50 x 50 centimetres, and will be used for remote sensing to monitor agricultural conditions, environmental monitoring, and disaster surveillance.
The students from Myanmar will spend up to five years working with the Japanese universities and will build two small Earth observation satellites, with the aim of launching the first one by the end of 2021. The students will be trained in satellite engineering and manufacturing, satellite data analysis and interpretation, as well as in all the necessary steps from satellite mission conception and development through to launch and on-orbit operations.
The total cost of the training programme is US$16 million for the training and accommodation of the students, the development of the two satellites, and their subsequent launch. All of the costs will be paid for by the Myanmar government.
The training of graduate students from Myanmar in Japan is part of a Myanmar government initiative to develop and establish its own space and satellite programme, and is being overseen and administered by the vice president of Myanmar, Myint Swe.
Japanese diplomats, space industry executives, and university officials have visited Myanmar often and met with officials there to lobby Japanese satellite technology and services. This lobbying has attracted much criticism from human rights activists, but Japanese analysts argue that if they did not provide Myanmar with satellite technology then Myanmar's political leaders would simply seek it from countries such as China.