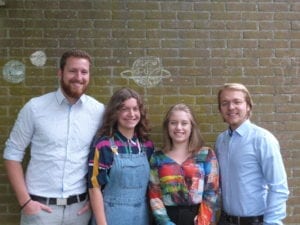 On 4 October 1957, humanity managed the first successful orbital launch of Sputnik 1, the very first satellite. This was the beginning of a new era, the era of space exploration. Since then, humanity has ventured to the moon, sent multiple probes to other bodies of the solar system, found new possible habitable exo-planets within our universe, and is now even planning the colonisation of Mars. Space exploration and its research have given humanity many advantages, not only in terms of technology and economic opportunities, but also to understand more about ourselves and our origin as part of a bigger system. Since the interest in space will only continue to rise, this topic needs to be addressed globally!
The Sustainable Development Goals (SDGs) were decided on at the United Nations (UN) Conference on Sustainable Development in Rio de Janeiro in 2012, as a continuation of the Millennium Goals Agenda. They go deeper into our responsibility as humans toward a sustainable planet by setting multiple universal goals for 2030 that meet the urgent political, economic, and environmental challenges facing our world. However, these global goals seem to understand planet Earth as an isolated entity, and they forget our dependence on and responsibility towards the system we are a part of. Since the lack of the protection of outer space can have a huge impact on all of us, it is important that more awareness is given to this, in order to tackle all of the problems we currently face, which will hinder our development in the future.
Therefore, we have decided to take action. Our names are Lise Selles, Chiara Moenter, Luca Ike, and Corvin Illgner (see photo, from left to right) and we are students from Windesheim Honours College in Zwolle, the Netherlands. Our goal is to get the UN to incorporate outer space in their SDG Agenda. This idea was given to us by one of our lecturers, María Garcia Alvarez, who already saw the necessity for action quite some time ago. One year ago, she started a campaign for a new SDG goal, SDG 18: Life in Space. We all strongly believed this goal needed even more attention, and after many hours of research, brainstorm sessions and reaching out to experts, our initiative was born.
Many different organisations from all over the world see the importance of space protection and/or are already working on ways to use space to support the already existing SDGs. This is why we find it incredibly important to connect all these different voices that are working on our common goal. In order to do this, and as part of the celebration of the United Nations 75th Anniversary, we will host our own UN75 Dialogue. Different global challenges will be discussed in different UN75 Dialogues around the world to inspire and generate solutions. The ideas and thoughts developed during these discussions in different countries will be presented to UN Member States and senior officials during the 75th UN General Assembly in New York coming September.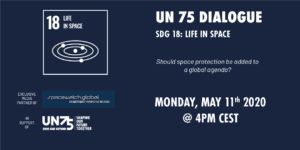 Our dialogue will be a roundtable discussion with international experts. On the 11th of May from 16:00pm to 17:30pm CET we will delve into the topic of outer space and its recognition on the global agenda. We want to look at space by focussing on the categories of politics, economy, environment, and the global agenda. During the conversation we ask for active participation from our silent audience. You can ask questions that our panellists can answer. We want to start our dialogue by discussing space related issues and move on to the topic of the incorporation of space on the global agenda, and how to possibly take action. To encourage an interactive discussion and a generative dialogue, we have invited panellists from various fields, including consultancy, intergovernmental organisations, and academic research groups.
We want to connect people from different fields to work together to get space on a global agenda! Our globe does not stand alone in the universe. So, join us on the 11th of May and ask any questions you may have. Please register here!
For more information you can also visit our website: sdgspace.org.