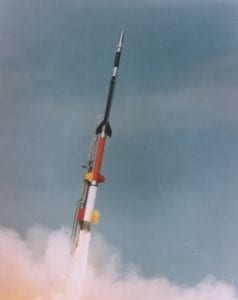 Magellan Aerospace Corporation announced on 16 April 2020 that it would provide Black Brant sounding rocket motors to The German Aerospace Center (Deutsches Zentrum für Luft- und Raumfahrt e.V. or "DLR") estimated to generate revenue of up to US$9.4 million over the term of the agreement. The DLR is the national aeronautics and space research centre of the Federal Republic of Germany. The Mobile Rocket Base (MORABA) is a department of DLR's Space and Astronaut Training and conducts multiple sounding rocket missions per year for scientific purposes. Under the terms of this agreement, the DLR will purchase Black Brant rocket motors over a three-year period and may exercise options for other various hardware items.
Similar to NASA, Magellan's largest Black Brant customer, the DLR has a family of sounding rockets that they utilize to meet varying mission requirements. The Black Brant is the most reliable sounding rocket motor in the market today, with a success rate of 99.4% over the last 500 launches. Responding to the DLR's requirement to expand its inventory of sounding rocket vehicles, Magellan's Black Brant rocket motor has the flight heritage and on-time production delivery that this customer demands.
Mr. Haydn Martin, Magellan's Vice President, Business Development, Marketing and Contracts said, "We are excited to welcome DLR as a customer for our Black Brant rocket motor and look forward to the opportunity to support their growing number of new vehicle configurations and missions in the coming years. This competitively won business speaks to the reputation that Magellan has built since the first launch of a Magellan designed and built Black Brant in June 1962".
Magellan's Winnipeg division is a pioneer in Canada's space industry and has been designing and manufacturing Black Brant sounding rockets for more than 55 years. The Black Brant is a solid propellant rocket system available in single or multistage configurations and is one of the most successful sounding rockets ever built. Black Brant rockets carry instrumentation into suborbital flight to take measurements and perform scientific experiments. To date, more than 1,000 Black Brant rockets have been launched from every continent other than Antarctica.