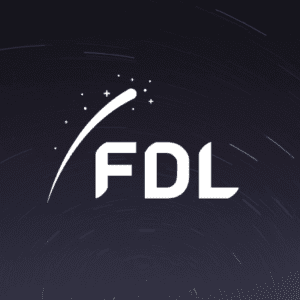 The Frontier Development Lab (FDL) Europe applies AI technologies to science to push the frontiers of research and develop new tools to help solve some of the biggest challenges that humanity faces. These range from the effects of climate change to predicting space weather, from improving disaster response, to identifying meteorites that could hold the key to the history of our universe.
FDL brings researchers from the cutting-edge of AI and data science, and teams them up with their counterparts from the space sector for an intensive eight-week research sprint, based on a range of challenge areas. The results far exceed what any individual could develop in the same time period, or even in years of individual research.
A key aspect of our success is the careful formation of small interdisciplinary teams focused on tackling specific challenges. Each team is composed of at least two space researchers and two data science or AI researchers, selected by our network of mentors. During the research and development sprints, the teams are supported by experts from ESA and our other partners.
Given the new global reality, and to safeguard everyone involved, FDL Europe is going virtual. Researchers can apply here https://fdleurope.org/fdl-europe-2020. The deadline is 14 April 2020.
We have established an impressive success rate for research output over accelerated time periods since we launched FDL. Research papers are regularly accepted to respected journals, presented at conferences (in both AI and science domains) and have been featured in multiple media outlets.
This year our teams will tackle technology solutions to Clouds & Aerosols, Constellations, Swarms & ML On-board, and Digital Twin Earth challenges. Research applicants can register to learn more about these challenges from our experts during our FDL Europe 2020 Challenge Overview Session on 6 April.
FDL Europe 2020 Challenge Overview Session
Monday 6 April
12:00 Noon BST  (13h CEST)
Register here.
FDL is a public-private partnership with NASA in the USA and ESA in Europe. We work with partners such as NVIDIA, Intel AI, Google Cloud, IBM, and Lockheed Martin who provide expertise and the computing resources necessary for rapid experimentation and iteration in data intensive areas. We also have strong partnerships with the SETI Institute, Planet, Satellite Applications Catapult, Element AI, and the University of Oxford.
For more information please visit our website.