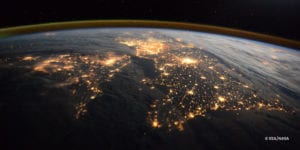 The proposed sovereign Global Navigation Satellite System (GNSS) announced by the British government after the decision to leave the European Union (EU), and the subsequent lockout of the British space industry from the EU's Galileo GNSS programme, is reportedly on hold due to intensive debates between British polticians and officials over the UK's GNSS requirements and what a sovereign system should look like.
These debates have apparently been triggered by a revised cost estimate of a sovereign UK GNSS system that has gone from £3 – £4 billion (US$3.85 – US$5.13 billion) to an estimated £5 billion (US$6.41 billion), and these estimates do not include the post-launch sustainment and replacement costs that would normally be associated with such a system.
In the aftermath of Brexit and its removal from the EU's Galileo programme, the UK government pledged to build its own GNSS system that, in terms of numbers of satellites and architecture, would be similar to the European system and would consist of approximately 24 satellites in medium-Earth orbit (MEO), providing global coverage.
The UK government has earmarked £90 million (US$115.5 million) for a technical and industry feasibility study that was supposed to have been submitted later in March, but reportedly this is now on hold. Further, the Financial Times reports that the UK Cabinet Office has started a government-wide review on whether a global constellation is required, and there are suggestions that a smaller system that augments the signals from Galileo and the US Global Positioning System (GPS) is also being considered.
"The problem is that this programme was launched in the political environment of Brexit, but there has been no discussion among stakeholders about what the requirement is," a space industry executive told London's Financial Times. "We are having a pause."
"In recent months there has been delay after delay," another industry executive told the newspaper. "It seems the UK lacks the expertise to judge the industry proposals so everything is taking much longer," implying that the proposed sovereign UK GNSS system was floated in a fit of political exuberance rather than a sober assessment of actual civil and military requirements.
Some UK space industry executives, however, see the delay as an opportunity to rethink what the UK wants and needs to do in space. Stuart Martin, the chief executive at the Satellite Applications Catapult in Harwell, Oxfordshire, told the Financial Times that, "[t]his is an opportunity to do something that goes well beyond Galileo."