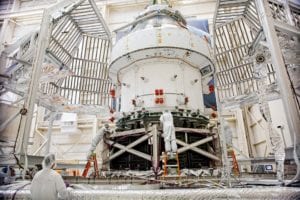 The Orion spacecraft for NASA's Artemis I mission has successfully completed several months of simulated space environment system level testing in the NASA-owned thermal vacuum chamber at Plum Brook Station in Ohio, according to a 16 March 2020 announcement by Airbus.
The tests were conducted in two phases; a 47-day thermal vacuum test and a 14 day electromagnetic compatibility and interference test in ambient conditions which both simulate the conditions the spacecraft will encounter during its voyage to the Moon and back to Earth.
"Today marked an important milestone for the Artemis I mission to the Moon," said Andreas Hammer, Head of Space Exploration at Airbus. "We proved to our customers ESA and NASA that the European Service Module, designed and built by our engineers in Bremen – supported by companies in 10 European countries – meets the requirements to withstand the harsh conditions in space. The Artemis programme will land the first woman and next man on the Moon and bring them back safely to Earth, we are proud to contribute to this endeavour with all our know-how, expertise and passion."
The engineering teams from Airbus, the European Space Agency (ESA), Lockheed Martin, and NASA are pleased with the results of this crucial test, which proves that the spacecraft is suitable to navigate safely through the extreme conditions that it will experience in space.
Orion will be transported back to the Kennedy Space Center to undergo further testing and prepare the spacecraft for integration with the Space Launch System rocket, beginning the next era of exploration.
ESA's European Service Module built by Airbus under an ESA contract, will provide propulsion, power, air and water for the astronauts, as well as thermal control of the entire spacecraft. Artemis I will travel around the Moon and back to Earth. Airbus in Bremen is already building the second Orion Service Module for Artemis II, where astronauts will fly to the Moon and back to Earth for the first time.