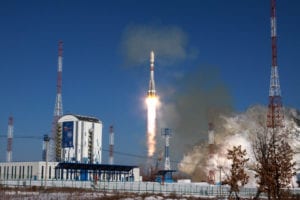 Berlin-based Exolaunch, a leading launch services and deployment system provider for small satellites, announced on 17 March 2020 that the launch of a 3U cubesat, MeznSat, for the UAE Space Agency will be performed aboard a Soyuz-2 rocket. The purpose of the satellite is to study and monitor the greenhouse gases, specifically CO2 and Methane, over the UAE.
MeznSat is a nanosatellite for climate observation, manufactured by Khalifa University of Science and Technology (KUST) in partnership with the American University of Ras Al-Khaimah (AURAK) and funded by the UAE Space Agency. The satellite's primary payload will be a shortwave infrared (SWIR) spectrometer that makes observations in the 1000-1650 nm wavelength range to derive atmospheric greenhouse gas concentrations.
The secondary payload on MeznSat will consist of a VGA camera for post-processing that brings increased precision and accuracy to the SWIR spectrometer data. The combination of visible and SWIR bands will make MeznSat a unique CubeSat mission, specifically designed to generate a rich dataset for exploring atmospheric correction algorithms.
MeznSat is scheduled for launch in mid-2020. It is accommodated on one of the upcoming Soyuz-2 federal launches as part of the small satellite cluster launch contract between Exolaunch and Glavkosmos, the operator of international commercial activities for the Russian State Space Corporation Roscosmos. Glavkosmos has been a reliable partner for Exolaunch, and it is pleased that the partners from the UAE have chosen a Soyuz launch vehicle for delivering MeznSat into orbit.
"We are proud to apply our best-in-class launch services expertise and utilize our market-leading EXOpod deployer for this Soyuz-2 mission," Jeanne Medvedeva, Commercial Director at Exolaunch, said. "The UAE Space Agency is nurturing some of the world's brightest young minds who apply space-based solutions to tackle global issues. It is extremely rewarding for us to support their vision."
Exolaunch's vast experience in cubesat launches, which includes the deployment of 89 small satellites into orbit to date, will ensure the success of this important launch and initiative. Moreover, UAE Space Agency's goal of developing student competencies makes this a particularly exciting collaboration, as Exolaunch will be able to utilize its educational background to lead students through the entire process of a launch arrangement. This Soyuz-2 mission serves as a milestone for both small satellite engineering and space education.
"The MeznSat project broadens the horizons of UAE's satellite capabilities, which include remote sensing, Earth observation and communications. The key objective of the project is education, in keeping with our vision to contribute to the international space sector, strengthen scientific research methodologies and develop capabilities in the UAE," Khalid Al Awadi, Director of Space Mission Management at the UAE Space Agency, said. "Seamless launch integration and deployment are crucial for our success, and Exolaunch has the flight heritage and proven successes we can trust. We are also excited to confirm the launch aboard a Soyuz-2 and continue this successful collaboration after sending the first UAE astronaut to space on the rocket last year."