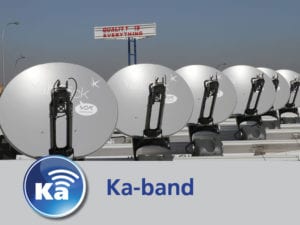 Canada's C-COM Satellite Systems Inc,  a global provider of mobile auto-deploying satellite antenna systems, announced its financial results for the fiscal year ended 30 November 2019. The announcement was made on 16 March 2020.
The company has generated revenues of CDN$13,977,909 (approximately US$9,997,630) and a net after tax profit of $2,843,092 (approximately US$2,033,507) or 8 cents per share. This compared with 2018 total revenues of $13,527,368 and a net after tax profit of $2,299,501 or 6 cents per share, representing an increase of 3.3% and 23.6% respectively.
The working capital of the company has increased by 8.8% to $22,383,369 at November 30, 2019 as compared to $20,580,939 at November 30, 2018. Itpaid out $1,882,033 in quarterly dividends during fiscal 2019 compared to $1,851,878 in fiscal 2018, representing a 1.6% increase. Based on its closing price of $1.89 per share on March 13, 2020, the quarterly dividend provided a yield of 2.65% per annum.
Results for Q4 2019 saw revenues increase by 40.6% to $7,009,616 when compared with results from the same period last year, when total revenues were $4,987,090. The net after tax profit increased 83.8% to $2,497,636 compared with the same period last year when the after-tax profit was $1,358,665.
"The company delivered better sales and higher profitability in fiscal year 2019 than the previous year," said Leslie Klein, President & CEO of C-COM. "In 2019 we finished the development of our new Manpack series antenna systems and saw the first large order for over 100 units delivered to our reseller in Japan for cellular backhaul use. Our new Manpack series antennas are generating very strong interest from new markets segments around the world. These small, one-case, one man back-pack like antennas are designed to be carried by a single person and assembled in about eight minutes without the use of tools."
"C-COM's flagship iNetVu® mobile antenna line also continues to gain worldwide acceptance and are operating reliably from the most Northern areas of Canada and Russia to the deserts of Australia and Saudi Arabia." Klein continued.
Klein added: "A new vertical market for tracking LEO's (Low Earth Orbit), Smallsats and CubeSats is emerging and C-COM has developed advanced tracking algorithms for this market for use with its existing Flyaway antennas. These new satellites operate in low earth orbit and deliver large amounts of data. C-COM has deployed several antenna systems with these new entrants and has demonstrated successful tracking of these fast-moving satellites. We expect this new market to generate incremental revenue for the company in 2020 and beyond."
"The Company is also involved in extensive R&D of next generation antenna technologies in conjunction with the University of Waterloo. Several patents from this research project have already been filed and we expect to file others before research is complete. This effort is expected to provide C-COM with a revolutionary, patentable Ka-band antenna technology to be used with the growing number of HTS's (High Throughput Satellites) being launched in the next several years. This intelligent scalable and conformal antenna technology is designed to be mass producible at a reasonable price and be compatible with 5G and other developing millimeter wave technologies." Klein concluded.
C-COM Satellite Systems designs, develops, and manufactures mobile satellite-based antenna systems. The company has developed proprietary, auto-acquisition controller technology for rapid antenna pointing to satellite with just the press of a button, enabling Broadband Internet via Satellite where terrestrial markets have failed, are overloaded or don't exist.