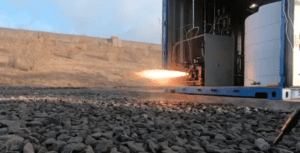 Edinburgh-based satellite launch company Skyrora held successful ground tests on its 3D printed 30kN (kilonewton) liquid bi-propellant rocket engine in late January 2020. The engine uses an innovative environmentally friendly, proprietary process, high grade fuel called Ecosene, made from waste plastics, which aims to minimise the environmental impact of rocket launches.
The first tests on Tuesday and Wednesday were deemed a big success, with 30-second firings using kerosene which enabled Skyrora to capture vital telemetry.
Friday witnessed the first UK tests of Ecosene fuel, allowing Skyrora to compare its performance and behaviour directly with kerosene RP-1 rocket fuel, with more detailed results to follow.
These tests are an important step toward developing Skyrora's commercial sub-orbital launch vehicle, Skylark-L which is expected to be ready for launch by Q2 2020.
The innovative engine produces three tonnes thrust, which makes it one of the largest rocket engines developed in the UK. This engine has been constructed using additive manufacturing techniques and advanced materials, including Inconel. The engine utilises a regenerative cooling approach and has Thrust Vector Control (TVC) built in.
The method used to 3D print the engine was completed by 'powder bed fusion', where a laser is used to melt and fuse the metal powder together. 3D printing was chosen by Skyrora as it increases the accuracy of the components, drastically reduces part count, decreases manufacturing complexity and reduces the cost of the engine build significantly.
Volodymyr Levykin, chief executive of Skyrora, believes the firm is on track to ensure a homegrown business is able to launch satellites into space from Scotland.
"These tests have been a crucial way for us to demonstrate the real scientific credentials underpinning our work. I must thank our team for their hard work in getting us to this stage and ensuring the tests are delivering exactly what we set out to do," he said. "In particular, the final day of testing on the Friday was a big day for us in learning more about the nuances of Ecosene – crucial for unlocking the transformative potential it holds for us and the entire space sector."
Skyrora is aiming to be the first UK-based company to fire a rocket into space from Scotland, which will be used to position a payload of satellites into separate orbits of up to 500 kilometres altitude.