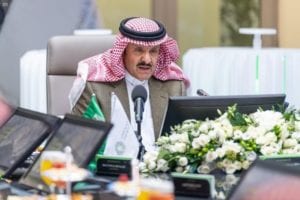 Saudi Prince Sultan bin Salman on chaired the first meeting of the Saudi Space Authority's board of directors on 24 February 2020.
"The Kingdom today, under the leadership of King Salman, is taking a steady step towards building a promising future for its people based on science, employing technology, stimulating creativity, and integration between state institutions and the participation of the private sector and citizens," he said.
The prince added that there is an awareness of the importance of the space sector at an international level in the economic, scientific, and strategic fields, and that there is a need for a strong national entity to regulate the sector in the Kingdom and enhance opportunities for growth.
"That is why the Saudi Space Authority will be the main organizing umbrella for everything related to the space sector," he said.
"The Saudi Space Authority will apply the principle of partnerships with all state institutions, the private sector, research and academic centers in the Kingdom and related entities externally, and will not operate on its own. Moreover, the field of investment in the space industry is an opportunity for small and medium-sized enterprises just as it is appropriate for large enterprises."
Prince Sultan pointed out that the authority is building on more than three decades of major accomplishments by citizens in the space sector. It will work with international space institutions and agencies to train astronauts and specialist workers, expand in the fields of satellite manufacturing and operation, and provide the scientific, legislative and technical environment needed to ensure the maximum benefits are derived from the opportunities offered by space.
The board of directors approved the national space strategy, which was developed by board members, along with representatives of the Ministry of Defense, other government agencies and King Abdulaziz City for Science and Technology. The aim was to create an ambitious but realistic national strategy to benefit the Kingdom and its citizens and the good of humanity. It was reviewed by international experts and will be submitted to the Saudi cabinet.
Prince Sultan said that the authority will serve as a vital platform to enable the Kingdom to take its rightful place in the global space community.