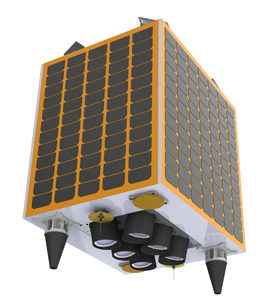 Kazakhstan has revealed that it intends to stand up and establish its own satellite manufacturing capabilities and industry with the aim of being able to build and launch its own communications and Earth observation satellites, as well as scientific and technological testbed spacecraft.
According to an unnamed official from the Kazakh Ministry of Defence and Aerospace Industry who spoke on the condition of anonymity with Azerbaijan's Trend News Agency, Kazakhstan's current satellite capabilities were all built by British, French, and Russian manufacturers.
"Earth remote sensing space system currently includes two satellites Airbus Defence and Space (France) and Surrey Satellite Technology Ltd (SSTL, UK); Kazakhstan's space communication system also includes two satellites, on-board equipment of which was developed with participation of various Russian and French companies. Kazakh space system for scientific and technological purposes was developed in cooperation with SSTL company and includes KazSTSat satellite," the Kazakh official said.
Kazakhstan intends to develop the capacity and expertise to build its own geostationary orbit (GEO) communications satellites, Earth observation satellites with medium and high resolution imaging capability, as well as satellites and spacecraft for scientific missions and for the testing and validation of new technology.
To this end, Kazakhstan recently completed the establishment of its own national space and satellite design bureau, modeled on the Russian space industry approach, and a satellite manufacturing, assembly, integration, and testing (MAIT) facility in the country.
"Space technology design bureau is to be concerned with design, manufacturing of ground support equipment and spare parts for spacecrafts. Spacecraft's assembling and testing complex will be concerned with full manufacturing cycle, starting from design to assembling and testing of the satellites weighted over 100 kg and below 6 tons, as well as manufacturing of spare parts for these satellites," the Kazakh official said.
Kazakhstan is also home to the vast Baikonur Cosmodrome, much of which is leased out to Russia, and will enable the Central Asian state to launch its own satellites as well as design and manufacture them.
Despite its intention to design and manufacture its own satellites, however, Kazakhstan still values the knowledge and expertise of foreign satellite manufacturers such as Airbus Defence and Space, Thales Alenia Space, and Surrey Satellite Technology Ltd. (SSTL).
"Furthermore, as the world's satellite industry develops, use of space technologies expands. This is why we no doubt will take into account the experience of creating and operating satellites of foreign companies," the Kazakh official told Trend.