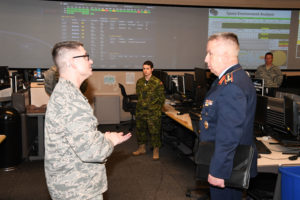 A delegation of German military leaders in air and space operations met with U.S. space leaders, as well as Space X, and visited U.S. space operators and facilities at Vandenberg AFB, California, to discuss current multinational operations and future bilateral cooperation on 5-6 February 2020.
In December Germany became the sixth nation to formally join the Combined Space Operations Initiative (CSpO). The purpose of CSpO is to improve combined space operations between partner nations, to optimize resources, deepen coordination, strengthen deterrence, enhance mission assurance, increase resilience, and improve mutual security.
The United States, Australia, Canada, France, Germany, New Zealand and the United Kingdom are formal members of CSpO.
"We're excited to formally welcome Germany as part of the CSpO Initiative; and we look forward to working closer with Germany in space. We are stronger together," said Maj. Gen. John E. Shaw, Combined Force Space Component Commander, U.S. Space Command, and Commander, Space Operations Command, U.S. Space Force. "Teaming with allies and partners is how we have achieved success in security activities in the terrestrial domains – we are doing the same today in space."
The United States, Germany, and multinational partners have been actively working together to address space security requirements during Global Sentinel space surveillance field experiments and exercises, Schriever Wargames, and Responsive Space Capabilities experiments since 2014. Additionally, a German liaison officer has been assigned to U.S. Space Command's Multinational Space Collaboration office at Vandenberg AFB since 2017.
"Space location and space operations are only possible in an international context," said Brig. Gen. Pototzky. "For the (German) Air Force, it is now a matter of consistently pushing ahead with the expansion and development of capabilities in the areas of space, as well as the planning and management of space operations, in order to make an active contribution and remain recognized as an international partner."
The visit consisted of meetings with senior officials from Combined Force Space Component Command, Space Operations Command,  Combined Space Operations Center, 18th Space Control Squadron and SpaceX. Additionally, the German officials received tours of the CSpOC operations floor and Space Launch Complex 4.
The German delegation included Air Force Lt. Gen. Klaus Habersetzer, Commander, Air Operations Command, German Federal Intelligence Service Maj. Gen. Werner Sczesny, Vice-President for Military Affairs, and German Air Force Brig. Gen. Burkhard Pototzky, Director for Space Operations,
Prior to visiting Vandenberg AFB Generals Habersetzer, Sczesny and Pototzky met with Lt. Gen. David D. Thompson, Vice Commander, U.S. Space Force, in Washington D.C.; and after vising Vandenberg AFB the Generals visited Lt. Gen. John F. Thompson, Commander, Space and Missile Systems Center, in Los Angeles.