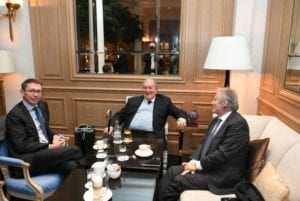 The President of Armenia, Armen Sarkissian, met with senior executives from French aerospace company Thales Group in Switzerland on 20 January 2020 in order to discuss several areas of interest in high technology, according to various reports in the Armenian press.
The meeting was the second between President Sarkissian and Thales Group, the first meeting having taken place in Yerevan, the capital city of Armenia, in early September 2019. The second and most recent meeting took place in Zurich, Switzerland, on 20 January 2020 during a working visit by President Sarkissian to the country. Attending from Thales Group were Hervé Dammann, Thales Group Senior Vice President for Latin America and Eurasia, and Raphael Eskinazi, a former Vice President of Thales Group.
The Zurich meeting continued discussion began in Yerevan in September 2019, in particular on artificial intelligence (AI) and digital data management joint projects, but also on a number of other unnamed areas of potential cooperation and development, to potentially include a satellite project.
President Sarkissian is especially keen on international participation in his science, technology, engineering, and mathematics (STEM) educational and economic development initiative called Advanced Tomorrow (ATOM), and for its part Thales Group has praised Armenia's educational and technological base and the high quality of its human capital as a favourable basis for joint projects and initiatives. President Srakissian, it should be noted, was an eminent and internationally recognised theoretical physicist and computer scientist prior to entering Armenian politics.
Armenia has had an interest in acquiring its own communications and Earth observation satellites, and in 2013 there was considerable Armenian interest in acquiring the former and in 2017 it was revealed that India was willing to cooperatively build an Earth observation satellite with the South Caucasian country, yet in both instances nothing seems to have transpired. It should be added that as a member of the Eurasian Economic Union (EAEU), Armenia is also involved in that international organisation's efforts to develop a multinational Earth observation constellation, though this is also taking a long time to develop.
It is understood that at present most of Armenia's satellite needs are met by Russia in terms of satellite communications, Earth observation, and positioning, navigation, and timing (PNT) services provided through Russia's GLONASS and China's Beidou.
Thales Group, through its subsidiary Thales Alenia Space, has been active in Central Asia in trying to drum up orders for its satellites. It is understood that Thales Alenia Space has been courting senior leaders in Turkmenistan and Uzbekistan, for example, to buy Earth observation satellites. Given Thales Alenia Space's Central Asian ambitions, it is not unreasonable to speculate that Armenia is seen by the French company's executives as a potential satellite customer. This is especially likely given that Armenia has enjoyed unprecedented economic growth over the past several years.
The only South Caucasus country to currently operate satellites is Armenia's neighbour and arch-geopolitical rival Azerbaijan – both countries are involved in a recurringly violent dispute over the Armenian enclave of Nagorno-Karabakh. Georgia, the other South Caucasus country nestled to the north of both Armenia and Azerbaijan, does not operate its own satellites and is understood to be dependent upon Turkish, Azerbaijani, and Western commercial satellite communications and Earth observation providers.
SpaceWatch.Global will report on any future developments in Armenia's satellite ambitions and Thales Group business in the country and wider region.