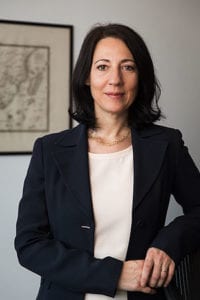 The Supervisory Board of the German space technology company OHB System AG, a subsidiary of OHB SE, has appointed Chiara Pedersoli to the company's Management Board effective 1 January 2020. In her capacity as a member of the Management Board, Ms. Pedersoli is responsible for engineering and assembly, integration, and testing (AIT).
Ms. Pedersoli can already look back on many years with OHB System AG, most recently working in a leading position in the engineering and AIT areas. "I am very pleased about Ms. Pedersoli's appointment to OHB System AG's Management Board," says Klaus Hofmann, COO Human Resources of OHB SE and CHRO of OHB System AG. "On behalf of the Fuchs family and the entire Management Board, I once again wish her all the best and every success."
Before joining OHB System AG in 2010, Ms. Pedersoli gained professional experience working at institutional and commercial entities. Born in Italy, Chiara Pedersoli graduated with a degree in aeronautical and space engineering in Milan, after which she continued her professional training and commenced her career at the German Aerospace Center, DLR. She also held positions at the European Organization for the Exploitation of Meteorological Satellites (EUMETSAT), the European Space Agency (ESA), and Airbus Defence and Space.
There are just under 1,000 employees in Ms. Pedersoli's area of responsibility spread across different technical segments and departments. For some time now, she has been commuting regularly between OHB's facilities in Oberpfaffenhofen near Munich and Bremen in the far north of Germany.
"I am very grateful for the confidence placed in me and look forward to the additional opportunities that I now have to actively shape the future of OHB System AG," says Chiara Pedersoli, who already knew at the tender age of six years that she would one day be pursuing a career in the space industry. "I am pleased that I am able to make a contribution here at the family-run company OHB. I feel a very close affinity to the company and its employees."