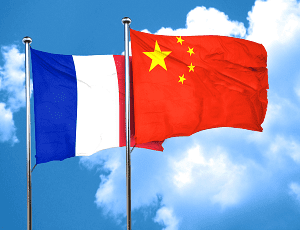 As part of the official visit to China of Frédérique Vidal, the Minister for Higher Education, Research and Innovation, Centre national d'etudes spatiales (CNES) President Jean-Yves Le Gall and Bai Chunli, President of the Chinese Academy of Sciences (CAS), signed a framework agreement on space cooperation on 13 January 2020.
Jean-Yves Le Gall also took the opportunity to outline the latest advances in space cooperation during the meeting between Frédérique Vidal and her Chinese counterpart, space having previously been singled out at the 14th session of the French-Chinese joint science and technology committee on 25 February 2018 as one of the seven priority areas for cooperation between the two nations.
Working under the Intergovernmental Agreement of 1997, space cooperation between China and France is rich and diverse, be it in the field of oceanography with CFOSat, which is currently surveying atmosphere-ocean interactions, in astrophysics with SVOM, which is set starting in 2021 to detect gamma-ray bursts in the Universe, in Earth observation through the deployment of the Space Climate Observatory (SCO), or through a future joint mission under study to monitor the water cycle. All of these areas illustrate the importance of space in the relationship between the two nations, and in the domain of planetary exploration China's Chang'e 6 lunar probe will also be carrying the French DORN instrument (Detection of Outgassing RadoN) in 2023.
In this context, the signature of the framework cooperation agreement today between CNES and CAS signals a new step that will foster closer collaboration between the Chinese and French scientific communities and promote both nations' future successful science and technology developments. To this end, the two partners will be establishing exchanges in fields such as space sciences, microgravity, Earth sciences and climate action.
After the signature, Jean-Yves Le Gall commented: "Space is central to cooperation between China and France, and our joint efforts are set once again to provide numerous answers and solutions to the challenges facing us, such as preserving the planet, developing our societies and probing the origins of life. I would therefore like to thank the French and Chinese authorities for doing us the honour of signing this framework agreement today, which shows the importance attached to these challenges on which we are working unrelentingly."