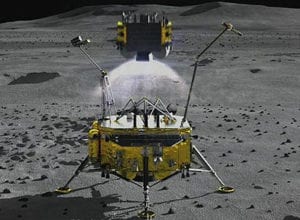 China is looking forward to 2020 being a banner year for its ambitious space programme, according to a Chinese government report released on 17 January 2020.
China expects to break its own satellite launch record by lofting over 60 satellites into various Earth orbits on more than 40 launches from Chinese launch sites. This is in comparison to the 34 launches made by China in 2019.
Shang Zhi, director of the Space Department at the China Aerospace Science and Technology Corporation (CASC), said, "This year will continue to see intensive launches."
The 2020 space plan was presented to the press at a news conference in Beijing on 17 January in the form of a 'blue book'.
Shang stated that there are five major space milestones that China expects to complete over the coming twelve months. These are as foillows:
The completion of the Beidou Global Navigation Satellite System (GNSS) constellation with the launch of the final two Beidou geostationary satellites in the first half of 2020. Once these satellites are successfully launched and operational Beidou will be able to provide global GNSS coverage;
Further launches for China's Gaofen Earth observation satellite constellation, comprised of numerous high-resolution imaging satellites designed for civil uses and applications;
The launch of China's Chang'e-5 lunar sample return probe, originally slated to be launched in 2017;
The launch of China's first probe to the planet Mars, Huoxing (HX)-1, comprising an orbiter and lander with rover. HX-1 will explore and study Martian topography, soil, environment, atmosphere, and water ice, as well as the planet's internal structure and search for possible signs of life. HX-1 is expected to be launched in summer 2020 from the Wenchang spaceport on the island of Hainan;
The maiden launches of China's Long March-5B, Long March-7A, and Long March-8 heavy launch vehicles. The Long March-5B will loft capsules for China's manned space station to low-Earth orbit (LEO), while the Long March-7A launch heralds a new generation of Chinese medium-lift vehicles, and Long March-8 improves Chinese launch capacity to Sun-synchronous orbits for commercial payloads.